Exploring the Queen City: 8 Popular Home Styles in Charlotte, North Carolina
Nicknamed the "Queen City" to honor a royal past, Charlotte has a long and proud history. And this history is evident in something prolific throughout the entire area—architecture. Take a few hours to explore the city and you'll quickly discover many different home styles in Charlotte.
Charlotte's diverse and rich history is evident in many architectural styles dotted throughout the various neighborhoods. Home styles in Charlotte vary based on location, when it was built, style preferences, and practical needs.
And if you're in the market for a new home in Charlotte, it's important to understand the various home styles you'll see, especially if it's an influential factor on what part of the city you may want to focus on.
Here are eight popular home styles in Charlotte and what you need to consider.
8 Charlotte Home Styles Throughout the City
Architecture and home styles in Charlotte vary significantly based on location. As the city grew and expanded over the decades—and continues to do so—newer, more modern, home styles have become popular.
This means that each neighborhood in Charlotte offers unique home designs and styles, with different features fit for any person or lifestyle.
Older neighborhoods in Charlotte host beautiful, unique, and historic home designs like bungalows, colonial homes, or ranches and split-levels. These established areas of Charlotte include historic Dilworth, the NoDa district, SouthEnd, Wesley Heights, and Belmont.
As you move out of the city center and into the suburbs, there is plenty of new growth and development. Growing neighborhoods with newly-built homes, apartments, or townhomes include Steele Creek, Ballantyne, South End, Belmont, and Elizabeth. These communities will offer more traditional homes, with craftsman and farmhouse styles growing in popularity as well.
If you're looking for something more exclusive, private, and higher-end, venture into some of our gated communities in Marvin and Waxhaw, country clubs in south Charlotte, or even lake life communities in and around Lake Norman.
Traditional homes may be one of the most popular home styles in Charlotte. You will see these homes in the suburbs around the city, with areas like Ballantyne, Marvin, and Lake Norman offering gated communities.
Homes built in the 90s and 2000s may start to see some interior updating happening before they are listed for sale. However, don't be swayed away from cosmetic work because these home sites tend to offer more mature landscaping, privacy, and lot
size. Newer properties built since 2015 certainly have most of the most sought features like granite or quartz counters, decorative crown moulding, hardwood floors, and open floor plan concepts.
There are pockets of more upscale traditional homes throughout Charlotte, but they become easy to spot in more prominent areas like Firethorne, Ballantyne Country Club, and Providence Downs South.
Who might like this Charlotte home style? Families seeking larger, spacious living spaces in the suburbs of the city.
Good to know: Because many of these homes offer appealing square footage but may possibly have outdated features or closed off areas, it may be desired to renovate them. We can help streamline the design process for you with our Reality Renovation.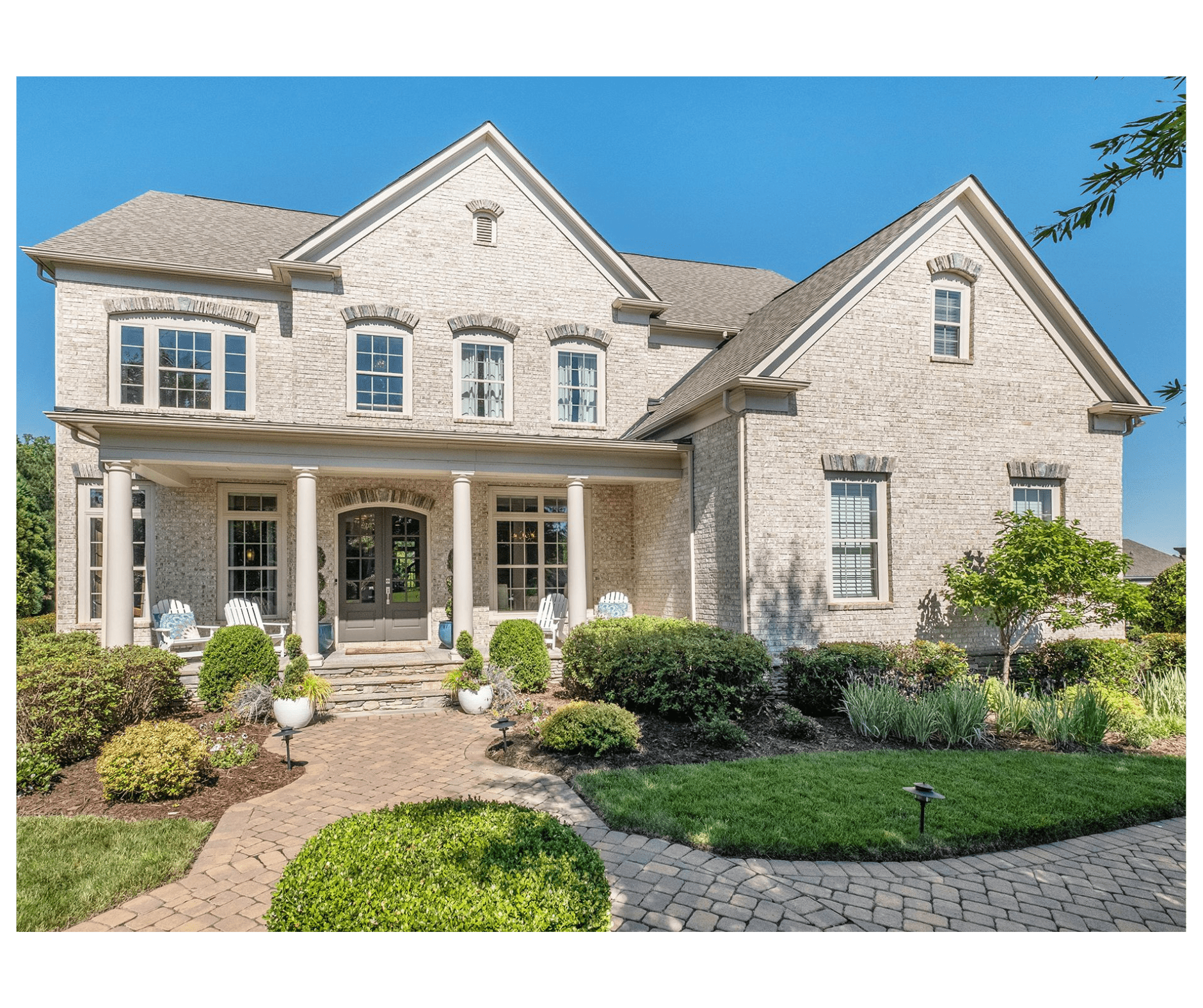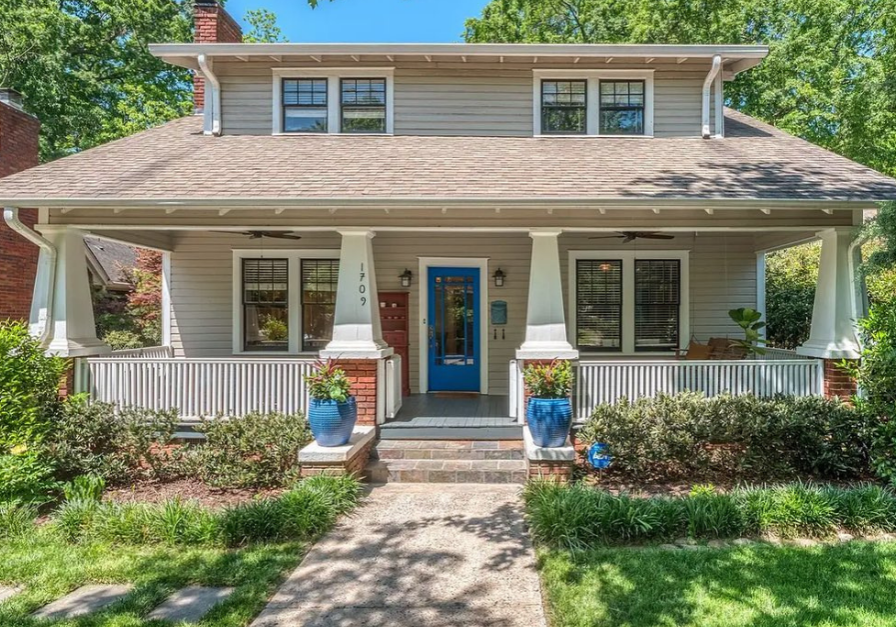 Historic bungalows were built in the 1930s and 40s, but there are also modern-day re-creations. Bungalows are known for their single-story floor plan, wide porches, and overhanging eaves.
Bungalows are common in the historic Dilworth area, the NoDa district (amongst an eclectic variety of home styles in Charlotte), and SouthEnd.
Who might like this Charlotte home style? People who want a single-level home are seeking character and historic charm.
Good to know: Charlotte has eight historic districts in the city and, as an effort to preserve the history and characteristics of these homes, the city enforces certain
standards that apply to any plans to modify, renovate or build within one of those districts. So if you love that older home and want to modernize it, be sure you're informed of what can and cannot be altered.
Colonial home styles in Charlotte are also often referred to as "McMansions" because, well, they're big. You can find many colonial homes in the SouthPark neighborhood, an upscale residential and commercial area with great shopping, restaurants, and entertainment. Other areas include Piper Glen, Quail Hollow, and Wessex Square.
Colonial homes sit on larger lots and, because they were mostly built in the 1980s, some may need renovation. These homes are more expensive and often run into the multi-million mark. Take a drive around Queens Rd West to see several examples mixed in with custom style homes. It's not uncommon to see a buyer purchase a lot with an older home that is pretty much a tear down and rebuild just to get the location this area commands. Plus, it's my favorite drive in the spring and fall!
Who might like this Charlotte home style? Buyers seeking large homes and properties in a posh, upscale neighborhood.
Good to know: Many of these homes were built with brick siding, however, some of the oldest colonials may have wood or hardboard siding. If you're considering a home with wood or hardboard siding, you should know it'll require more annual maintenance to prevent deterioration from moisture infiltration. The better long-term solution would be to upgrade it to fiber cement siding if it's near the end of its lifespan.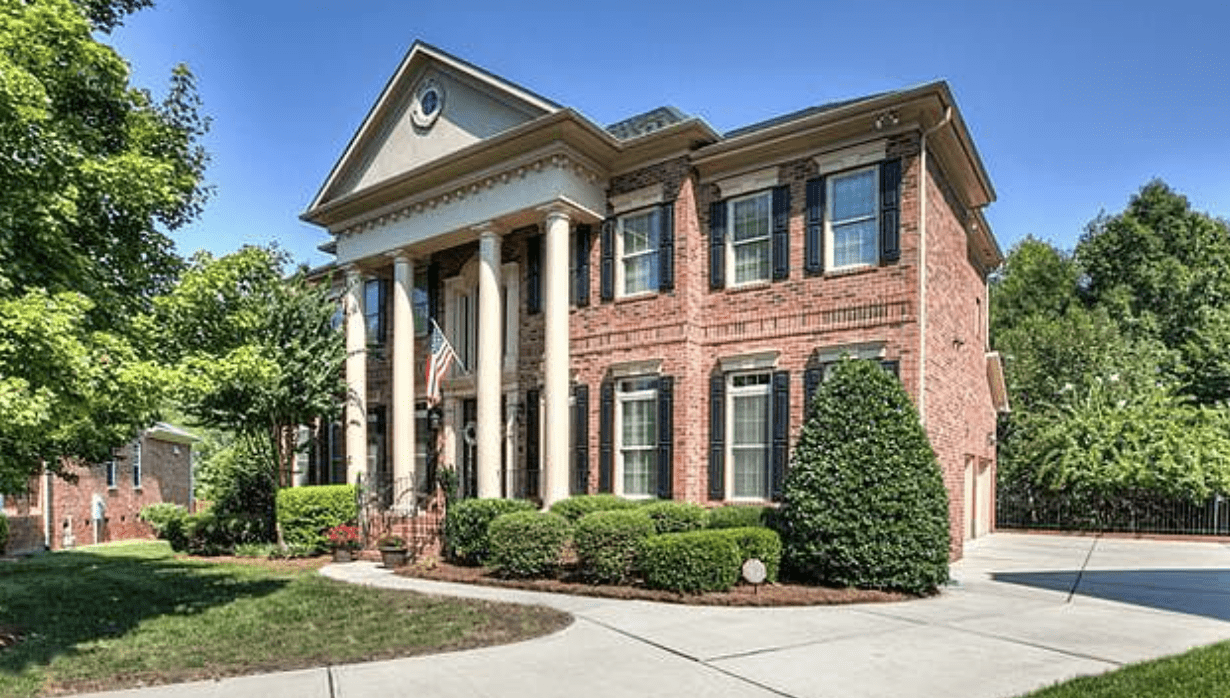 Ranches became a popular home style in Charlotte in the 1970s. They are characterized by their one-story design and L or U-shaped layouts. Most have attached front garages (if any at all), low rooflines, and segmented floor plans. Of course, as properties begin to get updated, we see several ranch homes being renovated and having interior walls knocked down to create more opened up floor plans.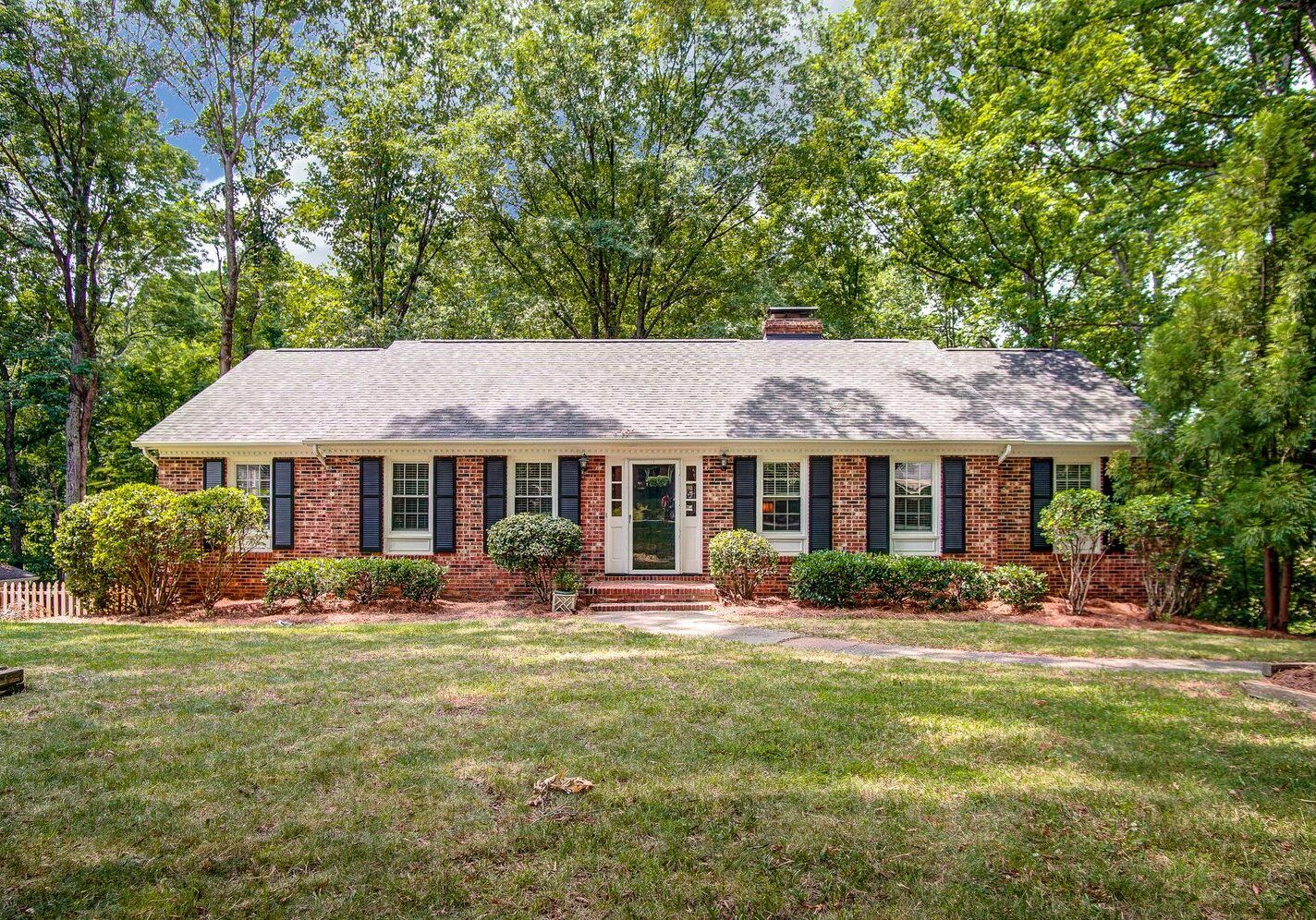 You can find these homes in older, more established parts of the city, such as Selwyn Park and Cotswold.
Who might like this Charlotte home style? People who want a single-story home with minimal exterior upkeep, thanks to simple architectural features.
Good to know: While true ranch style homes are single level only, there are variations that may be considered a 1.5 story or a 1 story/F.R.O.G (finished room over garage). In these two options, the majority of your primary living space is still on the main level, but you may have an additional bedroom and/or bathroom upstairs as well.
Another popular home style in Charlotte from the 1960s and 70s is the split-level. This is characterized by their unique design having living spaces on three different levels of the home with short staircases in between.
Similar to ranches, these homes are found in older parts of the city like Windsor Park, Beverly Woods, and Starmount.
Who might like this Charlotte home style? People who are able to navigate more stairs and want a unique layout with flexible living spaces.
Good to know: Due to the multiple levels of floors, and not always parallel with one another, split-level homes can be challenging when it comes to building additions or wanting to reconfigure walls. In Charlotte, many of these homes do not feature a garage but may offer a covered carport.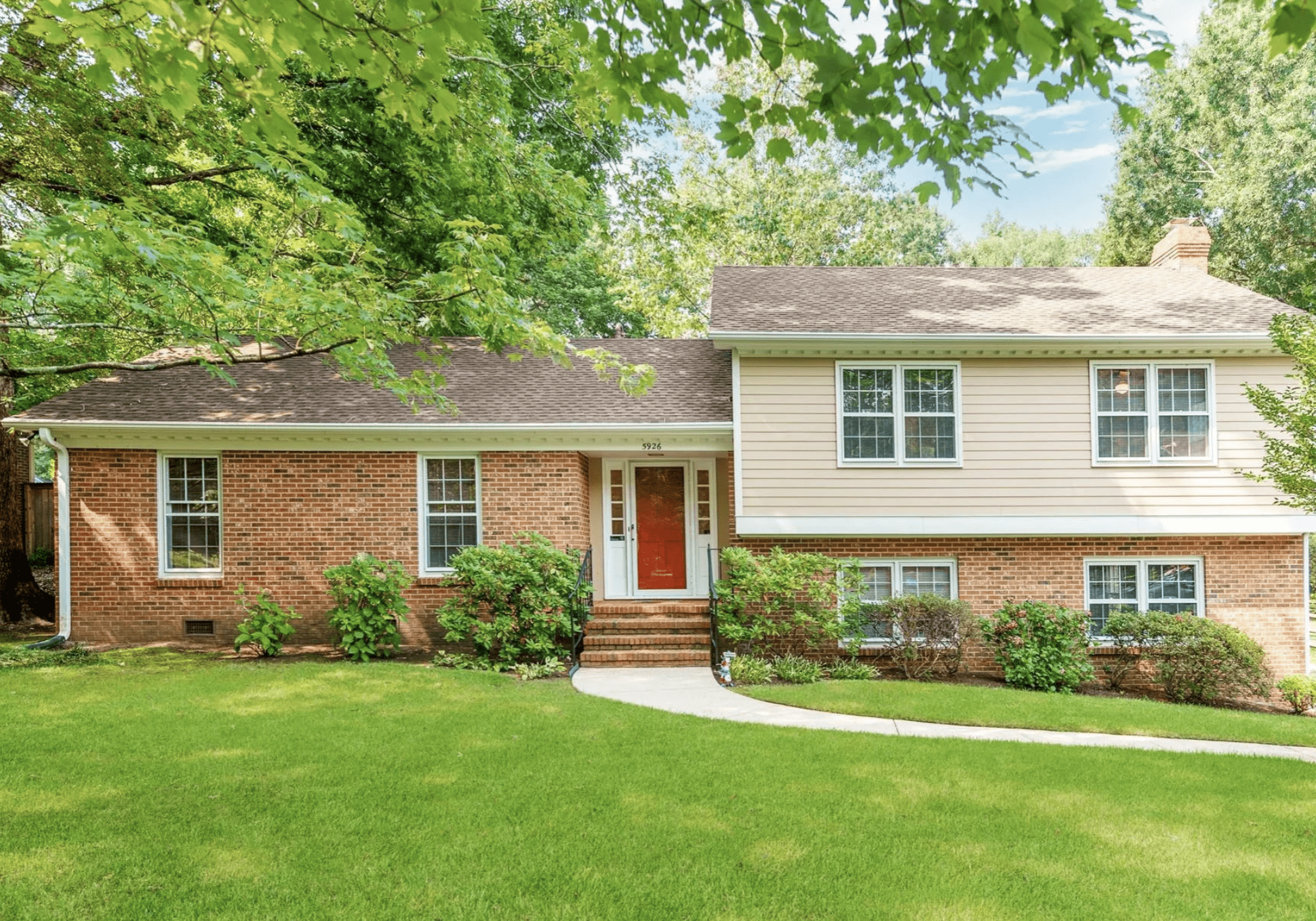 6. Craftsman and Farmhouse Homes
As you move out of the city center and older suburbs, there are many new builds in up-and-coming neighborhoods.
New constructions lend themselves to popular Charlotte home styles like craftsman and farmhouse-designed homes. Craftsman homes get their inspiration from the smaller and more historical aspect of the bungalow and are certainly making a comeback.
Craftsman home styles in Charlotte are marked by their classic design features like narrow windows, sloped roofs, and large porches with tapered columns. They're made with fiber cement siding, which offers a cost-effective option for people looking for larger square footage and interior upgrades. A slight variation we see now may lend itself to more of a farmhouse aesthetic, with their distinct board and batten vertical siding, simple colors, clean lines, and interior accents like shiplap and natural finishes.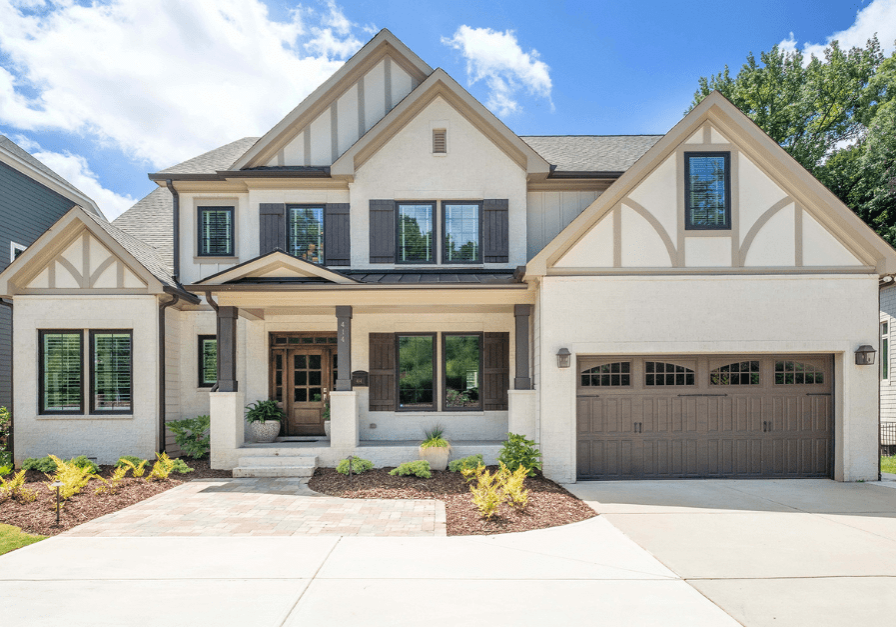 Lower SouthEnd (LoSo) is one area with a lot of new growth, including custom craftsman and farmhouse homes, where many older home sites are getting purchased and torn down, and these new homes are popping up.
Who might like this Charlotte home style? People who like the classic farmhouse style, or are seeking a newer or new-build home.
Good to know: These architectural styles are certainly making a comeback, but does that make them trendy or timeless? I think it's really in the eye of the beholder, but with the right design choices these homes can act as a perfect blank canvas for each homeowner to put their own touch on.
7. Contemporary and Modern
Contemporary home styles in Charlotte are similar to modern styles in that they're relatively new, but there are some key differences. Contemporary styles have an emphasis on open floor plans with a lot of natural light, often due to vaulted ceilings and large windows. Common features of modern home styles in Charlotte can include earth-tone finishes, new appliances, open spaces, clean lines, and minimal orientation.
There is also a strong emphasis on sustainability and energy efficiency in contemporary homes, using natural materials like bamboo flooring and granite countertops.
Like the custom craftsman homes, we're seeing many builders go in and buy up lots with older tear-down homes on them. They're then erecting these gorgeous contemporary new homes in their place. This makes for quite the drive down areas like Villa Heights to see a big contemporary home next to tiny tear-downs. That's a part of gentrification, though.
Who might like this Charlotte home style? People who prioritize sustainability and desire open floor plans and natural light.
Good to know: It's no surprise that part of the appeal for these homes is their natural sunlight from large floor-to-ceiling windows, which can really help a space feel bigger. Keep in mind when considering homes of this style that you'll improve your energy efficiency with high-performing glass or a UV-blocking film. Alternatively, you could use custom-sized shade devices or curtains to help offset the heat in the summer months and to provide a level of privacy year-round.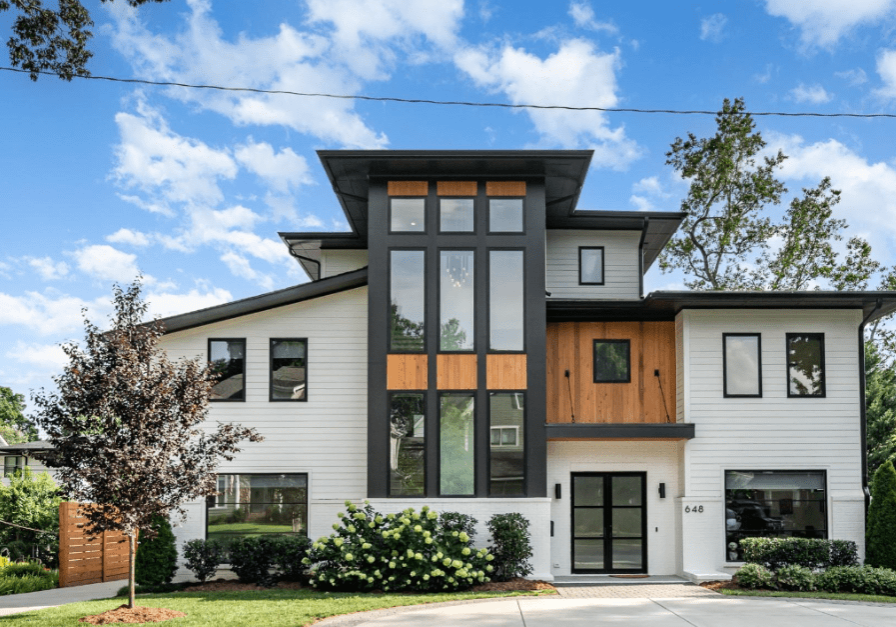 Townhomes are popular throughout the city and present an excellent combination of value, location, and low maintenance. Townhomes are typically narrow and have lower square footage, with some offering small yards or shared outdoor spaces. This is one home style in Charlotte that requires HOA (homeowners association) fees to care for many aspects of the exterior maintenance of the home.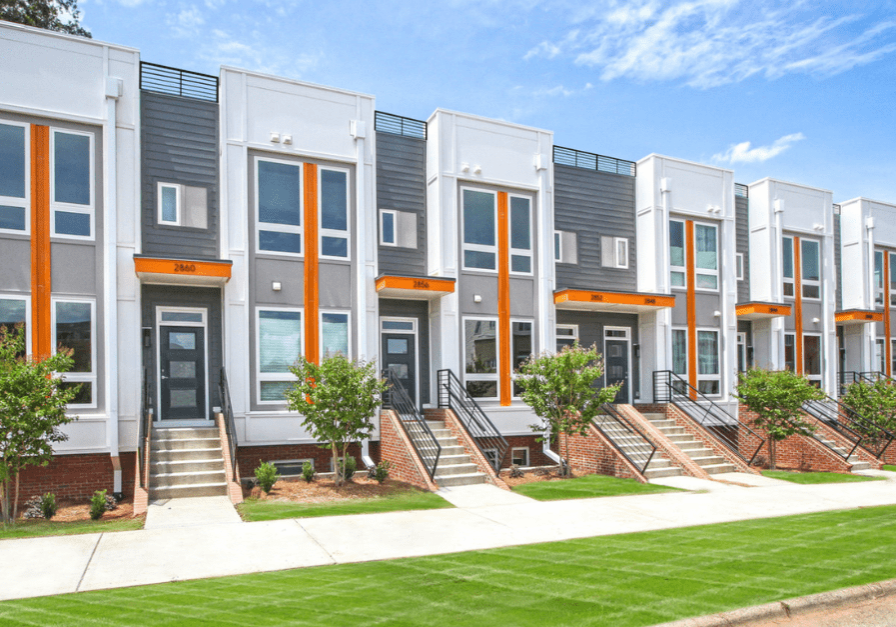 We're seeing many of these pop up closer into city limits, often as three or four-story options to fit enough square footage into the home. Some even offer rooftop terraces with potential skyline views. The Fourth Ward is a historic area near the center city and features more established-styled townhomes, while NoDa, Plaza Midwood, and SouthEnd will feature newly built versions.
Who might like this Charlotte home style? Homebuyers seeking low-maintenance options and a smaller, well-located home.
Good to know: Not all townhome HOAs cover big-ticket items like roof repairs, especially in the older communities, so it's a good idea to review the community docs for what they cover as well as the financial health of their community reserves.
The Queen City is an amazing place to live and there's a reason the official tagline is "Charlotte's Got a Lot"! And that's not limited to all the amazing things to do and see but also refers to the variety of Charlotte home styles and the diversity that makes up this great city.
So, whether you're in the market for a new home or just want to learn more about Charlotte, understanding the different home styles in Charlotte can help you get better acquainted with this amazing city. As always, if you're thinking about making a move to the Charlotte area, I can help you with buying a home, building new construction or custom, purchasing investment properties, and selling when the time is right. You can reach out to me at [email protected] to get the conversation started.
And if you want to dive deeper into the various Charlotte neighborhoods and see what this great city has to offer, check out my free Charlotte City Guide. It's packed full of information you need to know about this city, whether you're visiting or looking to call it your new home.
Let me know how I can help,

Save this post to come back to or share with a friend!
Have you scoped the podcast for entreprenuers yet?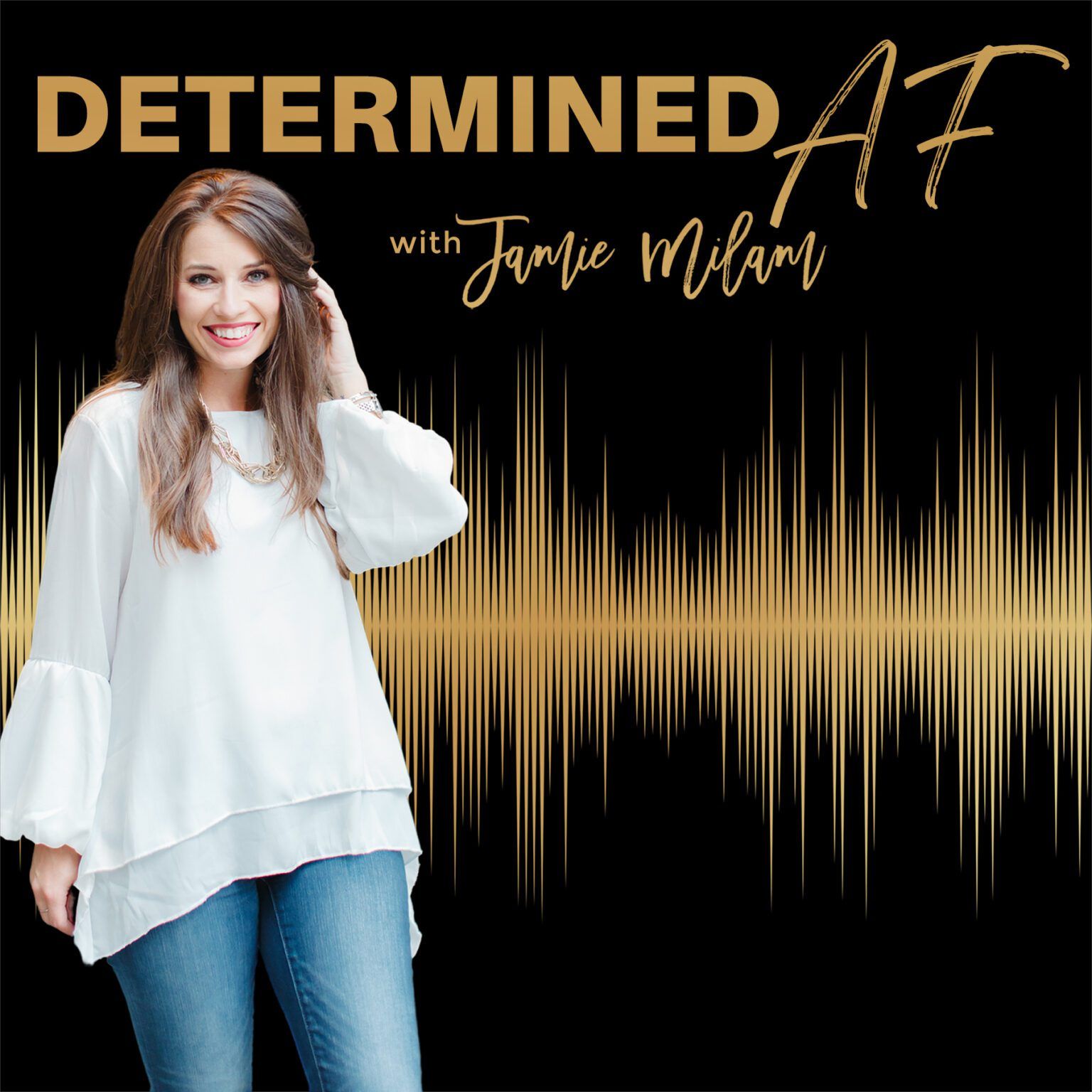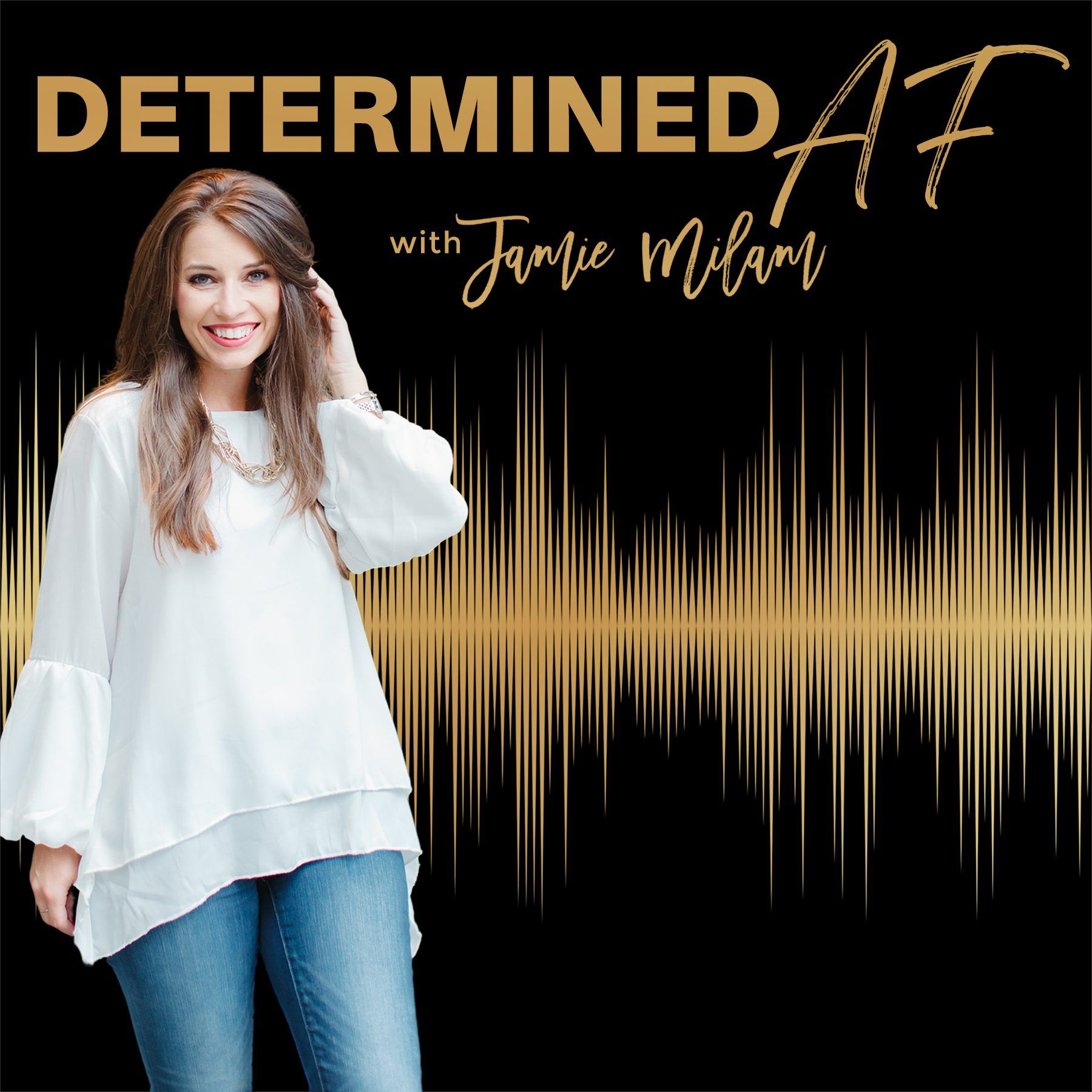 **Disclosure** This post may contain affiliate links and they are at no additional cost to you, though I may earn a small commission. Don't worry, I only recommend products or services that I have tried or believe would be of great value to you! All opinions expressed are those of my own!
So Many More Things to Share
For ambitious entrepreneurs with big dreams and goals, who are determined to break away from the overwhelm and experience peace and alignment in their world through self-awareness and systems.
For ambitious entrepreneurs with big dreams and goals, who are determined to break away from the overwhelm and experience peace and alignment in their world through self-awareness and systems.
A little bit of everything for everyone - from strategically growing a business, creating awareness and alignment to parenting and navigating different seasons of life. A transparent space that aims to inspire and motivate.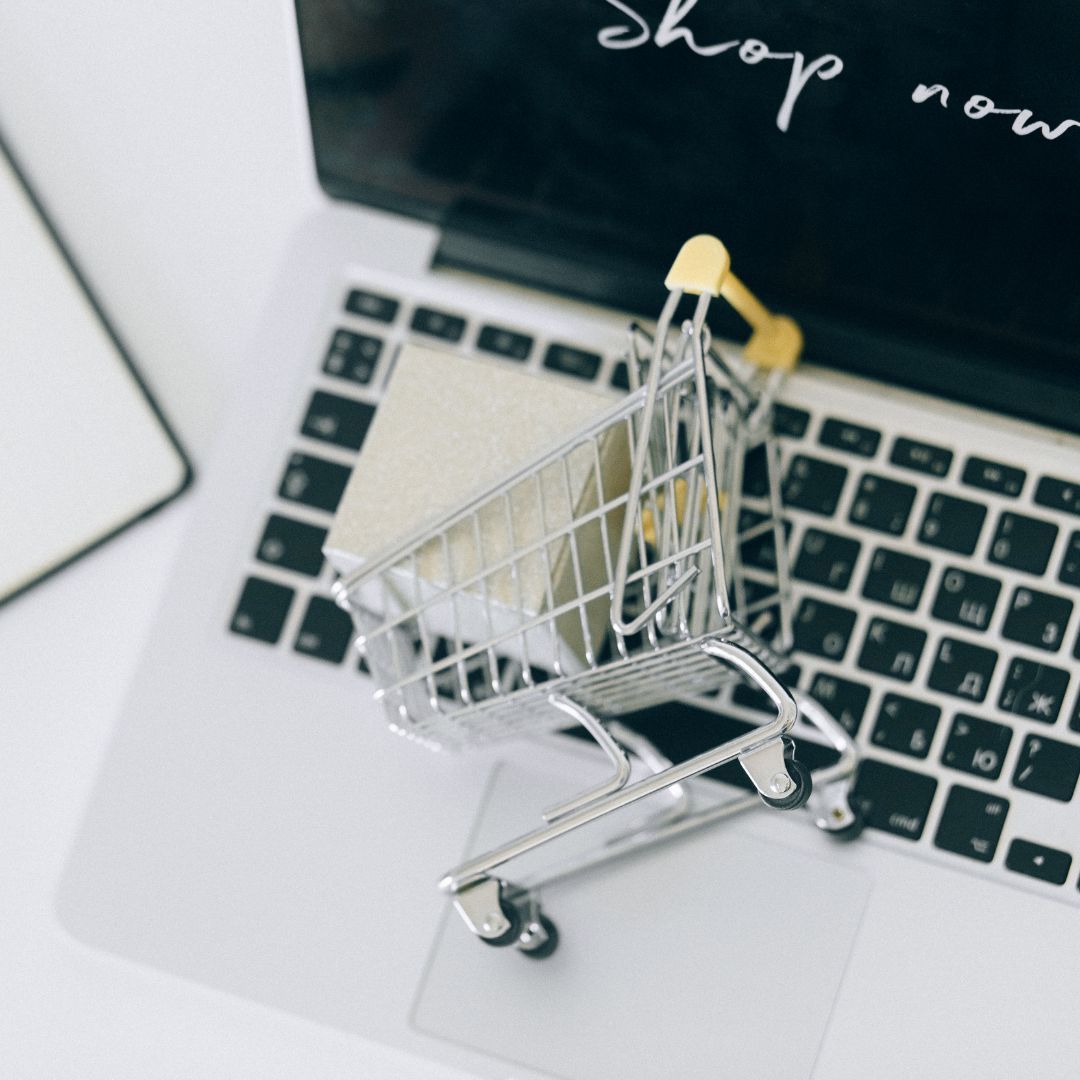 All the tools, templates and trainings I've put together for you to help you grow your business with ease. My goal is to simplify your strategic alignment process by giving you access to all the goods!
Come from contribution, that's a motto I've valued for years! So... that's exactly what I am to provide you, straight into your inbox each week! No fluff and all open-book. Inspiring you to practice awareness, value your authentic self, and implement strategic systems so you can create alignment in your world to live the life you desire and deserve!